Company is Coming! Is Your Dining Room Ready?
Cleaning Tips for Upholstery to Floors
---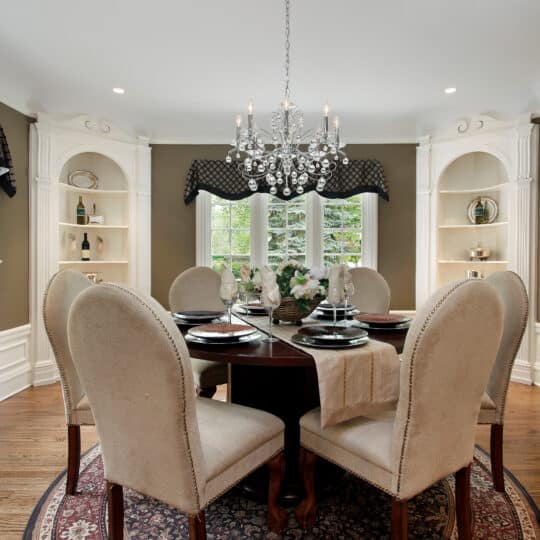 Whether you have a formal dining room or a small kitchen table, these areas get overlooked until it's time to welcome guests. Often tables and under utilized rooms become storage space for everyday items. But now that the holidays are right around the corner, it's time to focus on family gathering around that table. So it's best to make sure it, and the surrounding furniture, is clean. Here are some dining room cleaning tips for upholstery to floors that will help you get ready for company. 
Where to Begin
Whenever it's time to clean, it's easier to focus on one room at a time and one area at a time. One of the best places to start is by clearing the room of anything that doesn't belong. If the table is a landing zone for folded laundry or mail, and the floor features a collection of bags and shoes, start by putting these items away. When there's less stuff in the room, there's less stuff to clean, right?
Dining Room Cleaning Tips for Upholstery
If your dining room is decorated with upholstered chairs, you should learn about the type of fabric and how it should be cleaned. The main concern is whether or not to use a water-based product on the fabric. If there's no tag to tell you, try treating a small area of the chair to test which product will work.
Here are some tips for keeping your chairs looking their best on a regular basis:
Regularly vacuum dust or crumbs with an upholstery brush.

Quickly clean any spills before they stain.

Use removable covers that can be washed.

Deep upholstery cleaning should be done as needed or seasonally.
Tips for Cleaning Floors
The dining room floor takes a beating. Between moving chairs and a steady traffic of diners and servers, the area should not be ignored. Each dining room floor is different. Whether your room is carpeted, hardwood, or accented with an area rug, there's a certain way it should be cleaned.
One of the easiest ways to clean the floor is to have a professional handle the hard work. A pro already knows what products to use on the different types of upholstery and floors. When you call JDog Carpet Cleaning & Floor Care, you can be sure our Veterans and Military family members will treat your space to the highest standards. Take advantage of our floor and upholstery cleaning service to give your dining room the deep clean and respect it deserves. Then all you have to do is enjoy your time in the company of friends and family.