10 Tips to Make Your Guest Bath More Welcoming
What Goes In, What Stays Out
---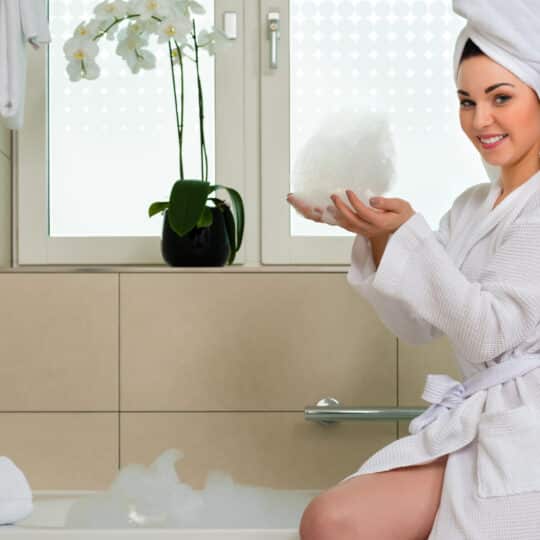 Before welcoming friends and family over this season, take a second look at the guest bathroom. Often overlooked if it's not used regularly, this space may need a makeover. Here are ten guest bathroom tips on what should and shouldn't be in there.
Guest Bathroom Tips for a Welcoming Space
While you may see your bathroom a few times every day, the guest bath still deserves some attention, especially during the holiday season. It's easy to spruce up the space to make it feel more welcoming to friends and family. You may even want to incorporate some of these tips in your own bath to make it feel even more homey.
What Should Be in the Bathroom
Of course there are bathroom essentials like towels, soap, and toilet paper, but there's a way to add a little something extra to these everyday items. Also, pay attention to the little details. It's the small touches that could make a big difference in creating a signature space.
Plush towels. Offer a spa-like experience with clean, soft towels in a neutral color. Add a spritz of fabric spray before guests arrive for an extra touch.
Robe and slippers. Nothing says luxury like a warm bathrobe and comfy slippers. It's a sign of a top-notch hotel, so it's sure to leave your guests feeling fancy.
Toiletries. Stock the cabinet with some of the items they may have forgotten. Arrange travel-sized versions of shampoo, conditioner, body wash, and lotion in baskets with Q-tips, cotton balls, feminine products and other essentials. Also make space for extra rolls of toilet paper so they never have to ask.
Amenity kit. Even if you're sharing a bathroom with your guests, you can create an amenity kit with some of these items and place it on their bed.
Laundry basket. One way to help keep the area clean is to add a basket they can use for their laundry if it's an extended stay. It also provides a place they can put their towels before they leave, so it's not thrown on the bed or floor.
Greenery. Add fresh flowers or a faux plant to elevate the space with a pop of color. Make it flowers from your garden for a personal touch or their favorite plant to say you go above and beyond.
What's Not in the Guest Bath
What's not in the room is just as important as what is.
Clutter. If your guest bath is usually the place you store your bulk items or any overflow from your own bath, give it a good tidying up and organize the shelves.
Packed cabinets. Give guests a spot to put their stuff. Either an empty drawer, shelf, or corner table.
Harsh lighting. While natural lighting is best for any bathroom, you can help make the space more inviting by adding a dimmer switch to overhead lights, a candle to set the mood, and a night light for access after dark.
Dirt and mold. Of course you want to be sure to thoroughly clean the guest bathroom before anyone else uses it. This is especially important if it's not cleaned as regularly as your own bath. Be sure to check the shower head, grout, and hard-to-reach spots around the base of the toilet and sink. Wipe down the mirrors and take a good look at yourself. You're the host with the most!
Professional Guest Bathroom Cleaning
Getting ready for guests can be a stressful process. Why not leave the cleaning to us. Contact JDog Carpet Cleaning & Floor Care to help deep clean and disinfect the tile, grout, and floor in your guest bathroom. When our Veterans and Military family members come over, you'll be left with an immaculate room fit for your family and friends.