Why Is My Grout Discolored?
Six Reasons This Might Be
---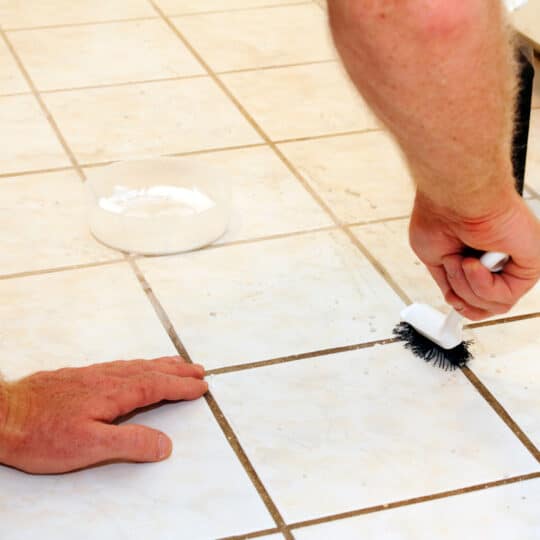 When you glance at your tiled surfaces, it's the clean lines and neat patterns that catch your eye. However, those neat lines can be interrupted by nonuniform grout. If you've ever wondered why this specific part of your flooring looks less than clean, you're not alone. Read on to learn the common reasons why your grout can become discolored.
Why Is My Grout Discolored?
Infrequent Cleaning: When you don't clean your grout regularly, dirt and stains have more time to accumulate and become embedded in the porous material, making it appear dirty and discolored. (Mopping your tile oftentimes doesn't count!)
Delayed Spill Cleanup: Failing to clean spills promptly can lead to stains and grime settling into the grout lines, creating unsightly marks and discoloration that can be challenging to remove.
Lack of Sealing: Unsealed grout is more susceptible to absorbing moisture, dirt, and stains, which can result in a dingy appearance over time. Properly sealed grout is better at resisting these contaminants and staying clean.
Dirty Mop Water: If you use dirty mop water to clean your floors, you're essentially spreading grime and contaminants onto your grout lines. This can make your grout look even dirtier after cleaning and contribute to a grimy appearance.
Aging: Over time, grout can naturally deteriorate and discolor due to wear and tear. It may become brittle, porous, and more prone to staining. You might notice this more in high-traffic areas.
Chemical Reactions: Certain chemicals or substances, such as acidic cleaners or colored liquids, can react with grout and cause it to change color or become discolored.
Cleaning Your Grout Doesn't Have to Be Hard. Call JDog Carpet Cleaning & Floor Care.
The Veterans and Military family members at JDog Carpet Cleaning & Floor Care are ready to tackle any cleaning project in your home, from flooring to tile and siding to upholstery. You can count on us to show up on time and in uniform, and we won't stop cleaning until your tile and grout are cleaned to our high standards—no mold, mildew, or grime remaining. Simply call us today at JDog Carpet Cleaning & Floor Care for a free quote.