All the Supplies You Need to Power Wash
For Success and Safety
---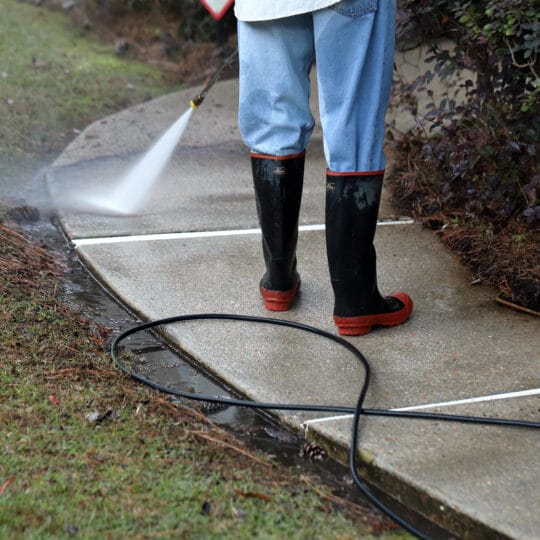 All successful DIY projects start with gathering the right tools you need and power washing isn't any different. Before you start that cleaning project, set yourself up for success by having what you need and doing your research. Read on to learn about the supplies you need to power wash.
Supplies You Need to Power Wash
A power washer: Like all supplies, you might find a cheap power washer, but consider how long it will last and if you plan to use it again. Read reviews and decide what is worth the investment.
Power washing solution: You'll need a cleaning product to use with your power washer. You can purchase one or use this DIY recipe.
Access to a hose/water spout: Water is not stored in the power washer, so you'll need to be able to attach it to a hose or water spout.
Safety gear: Pressure washers can generate 1,500 to 4,000 psi (pounds per square inch). To put it in perspective, a garden hose delivers about 50 psi. If misdirected, it's strong enough to damage skin upon contact. Your hands, feet, and eyes are at the greatest risk. Common injuries include lacerations, bruises, punctures, and eye injuries. You should always use safety goggles, protective gloves (rubber gloves won't provide any protection from skin lacerations), and thick shoes.
JDog Is All You Need
Skip gathering the supplies you need to power wash and call the Veterans and Military family members at JDog Carpet Cleaning & Floor Care. We offer soft power washing. It's the most gentle-yet-effective choice for your home. Utilizing this method is just one way we show you and your home Respect, Integrity, and Trust—the same values we lived by during our time serving our country. When you call us, you can rest assured we won't stop cleaning until your project is completed to our high standards. Call us today at 844-GET-JDOG for a free quote.