Don't Clean Your Tub Before Reading These Tips
5 Tips to Use
---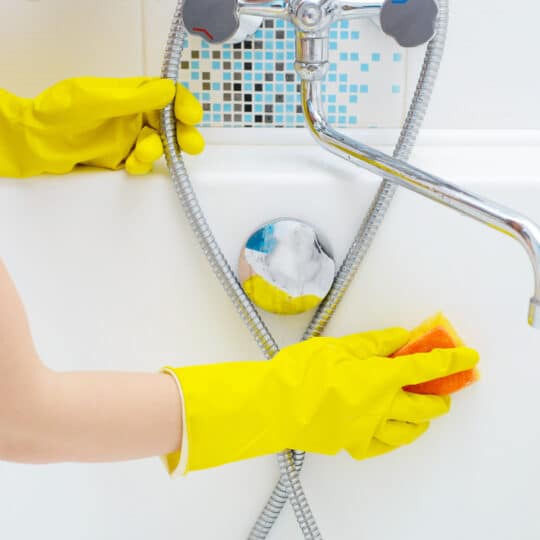 Cleaning your bathroom can be one of the most daunting tasks on your chore list. Between the various types of grime, tricky corners, and too many tools and cleaners to choose from, there are numerous considerations to get the job done right. Fortunately, there are some things you can do to make it easier. Don't start to clean your tub before you read these tips!
Don't Clean Your Tub Before Reading These Tips
Identify the grime. You will treat hard water, mold and mildew, and soap scum differently. Figure out what your mess is so you can determine your treatment. (Remember, you might be dealing with all types.)
Check with the manufacturer. What type of tub do you have? There are many different materials that tubs can be made of, from fiberglass to porcelain and copper to stone resin. Not all can handle the same cleaning methods, so it's important to check with your manufacturer for proper care.
Tidy up. Cleaning professionals know it's inefficient to clean a tub if shampoo bottles are sitting on the edge and sponges are in the way. Empty your tub before cleaning to speed up the process and easily get in every nook and cranny.
Dry. Once your tub is clean, dry it with a microfiber towel to prevent murky water stains. This will leave you with a beautiful shine for the next time you're ready to enjoy a bath.
Call JDog Carpet Cleaning & Floor Care to start with a clean slate. The task of cleaning a dirty shower can be daunting. Start with a shiny, like-new tub by calling the team at JDog Carpet Cleaning & Floor Care first. When you hire the Veterans and Military family members at our local locations, you can expect transparent pricing, on-time service, and our guarantee that we won't stop cleaning until the job is completed to our high standards. Call us today at

844-GET-JDOG

to schedule a service.