How to Prevent Mold in Your Shower
Four Easy Steps
---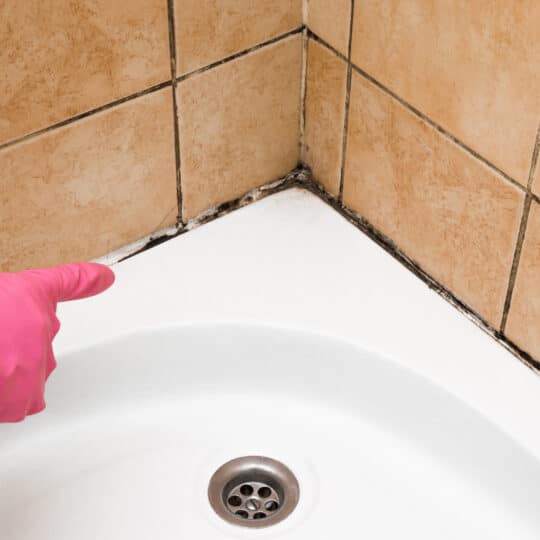 When you take a shower, you want to leave feeling clean and refreshed, which is hard to do if you're dealing with bathroom grime like mold. Fortunately, there are some things you can do to prevent mold in your shower. Read on to find out.
How to Prevent Mold in Your Shower
Let the space dry. Mold thrives in moist areas, so bathrooms are a popular spot to find this issue in your home. You can help prevent mold by leaving your shower door or curtain open after a shower to give the space a greater opportunity to dry out. You can also use a squeegee to really get rid of the water that can accumulate on glass doors.
Run your bathroom fan while showering. This handy system in your bathroom helps manage the humidity created when running hot water. The extra humidity means it will take even longer for your bathroom to fully dry, leaving more opportunities for mold to grow.
Seal your grout. Your tile is a non-porous surface that is hard for mold to cling to. Your grout, on the other hand, has the perfect texture for moisture to get stuck and for mold to grow. You can make it a less hospitable environment for mold and other stains to pop up by sealing your grout, which creates a moisture-safe barrier. If sealant or grout already has hard-to-remove mold, you might have to completely reseal or regrout the surface to start with a clean slate.
Clean regularly. Don't give mold the opportunity to spread. Clean your shower on a regular schedule to prevent mold. You can also consider using a daily shower spray that helps keep mold and mildew at bay.
Get Your Shower Spic and Span with Help from JDog Carpet Cleaning & Floor Care.
Once your shower has mold, it can be challenging to get rid of it for good. Give yourself a blank slate with help from the Veterans and Military family members at JDog Carpet Cleaning & Floor Care. We know just how to clean your shower so that it's as clean as new. When you call us, you can be confident we won't stop cleaning until the project meets our high standards. Call us today at 844-GET-JDOG to schedule your appointment.