How to Protect Outdoor Upholstery
Four Things You Can Do
---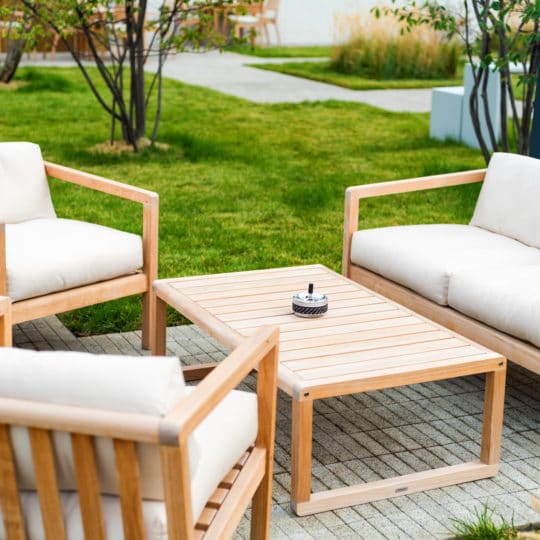 Do you have your sights set on warm days spent lounging outside? It sounds like a great idea—until you inspect your outdoor upholstery and discover it has seen better days. After you take the time to clean it up, use these tips to protect your outdoor upholstery so all you have to wait for is a nice weather forecast to enjoy your little outdoor oasis.
How to Protect Outdoor Upholstery
Cover it when not in use. This is the easiest way to take care of your outdoor upholstery. Use water-proof covers to protect your furniture when you aren't using it. Be sure the cushions aren't wet before putting them on, or you might create the perfect environment for mold and mildew to form.
Take cushions inside during the off-season. If you don't plan on using your outdoor furniture over the colder months, bring the cushions inside to keep them even safer from the elements.
Check for specific cleaning instructions by the manufacturer. You might be surprised to learn your cushions can be machine-washed! Look for a tag on the fabric for specific cleaning instructions. Like any upholstery cleaning, do a small test area first to be sure the color of the fabric isn't impacted.
Call JDog Carpet Cleaning & Floor Care. Give yourself a clean slate with clean upholstery. At JDog Carpet Cleaning & Floor Care, we know different upholstery requires different cleaning techniques, so our technicians are trained to identify fabric types and use only the safest cleaning methods. Simply call us at 844-655-JDOG and tell us about your upholstery cleaning needs, and we'll give you a free quote. Then, we'll arrive on time and in uniform and get started as soon as you show us what you need to have cleaned. We use gentle techniques to clean your upholstery and won't stop until the job is done to our high standards. It's that simple!