DIY Tile Spray
With Ingredients You Have at Home
---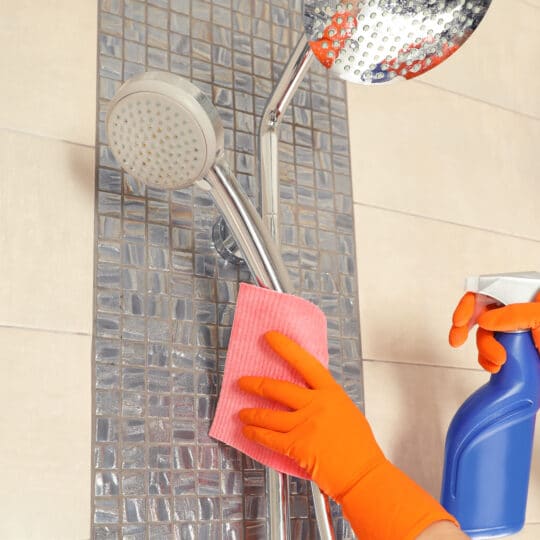 Between the commercials you see everywhere and a walk down the cleaning aisle at the store, it can seem nearly impossible to choose the right shower cleaner. And then, when you read the first ingredient is usually water, you wonder what you're paying for. Skip the store-bought and make your own DIY tile spray with ingredients you likely already have at home.
DIY Tile Spray
Fortunately, the recipe for your tile spray is as simple as can be. Head to your kitchen for everything you need. Here's the recipe:
Water
Dishwashing liquid
Baking soda
Step 1: Combine these ingredients in a large bowl. Transfer it to a spray bottle.
Step 2: Shake the solution, then spray it into the shower or tub. Give it a few minutes to work.
Step 3: Use a sponge to clean the shower. You might need a scrubber for tougher jobs. Rinse and repeat if necessary.
Step 4: Did you know you can even use a daily shower spray to prevent additional elbow grease when cleaning next time? Simply give your shower a few spritzes with this spray after you step out to freshen the space.
Tough Grime? Call JDog Carpet Cleaning & Floor Care for Help.
JDog Carpet Cleaning & Floor Care is here to help when your shower needs a refresh, whether you just moved into a home that lacked some love or you've been pushing off the project for too long. When you call us for tile and grout cleaning, you can expect transparent pricing, on-time service, and our guarantee that we won't stop cleaning until the job is completed to our high standards. Then, you have a blank cleaning slate to start using your own tile spray! Call the Veterans and Military family members today at 844-GET-JDOG to schedule a service.