Tips for Storing Your Patio Furniture for the Season
Three Things You Need to Do
---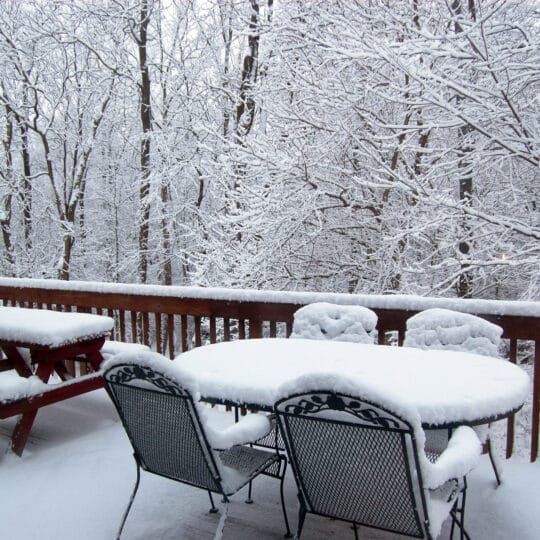 Now that the days are getting colder and you're pulling out your winter gear, you might be thinking about what's next for your outdoor furniture. Storing your patio furniture the right way during the cooler months is essential so you can get right back to al fresco living next spring. Read on to learn some tips to help.
Storing Your Patio Furniture for the Season
Clean it before you cover it. The first step in adequately storing your patio furniture for the winter is to ensure it is clean before you put it away. Give each piece a thorough cleaning according to the manufacturer's directions to remove dirt and debris from the surface. This will help keep them in good shape while they sit unused during cold weather months.
Cover it. Whether you need to leave the furniture on your deck or have space inside, after cleaning, it's essential to cover them up with protective covers or tarps. This will ensure that they remain protected from snow, sleet, and other elements.
Keep it out of the way. It's important to remember to store your patio furniture out of the way when not in use. These oversized items may become hazardous to you, your kids, or your pets if left outside during inclement weather conditions where someone might bump into them when the snow gets too high or even slide into them in the case of ice. When possible, store these items securely in a shed or garage where they are entirely out of the way. If that's not an option, slide them over to the corner of the deck so they aren't near the walking path.
We'll Help You Clean Before You Cover.
It might be getting colder, but it's not too late to have your patio furniture adequately cleaned before storage. At JDog Carpet Cleaning & Floor Care, we know how to clean your outdoor upholstery and furniture. When you call us, you can expect Respect, Integrity, and Trust, the same values we lived by while serving our country. You can feel confident knowing we won't stop working until everything is cleaned to our high standards. Call us today at 844-GET-JDOG for a free quote.