What You Need to Know About Renting a Carpet Cleaner
Before You Tackle This DIY
---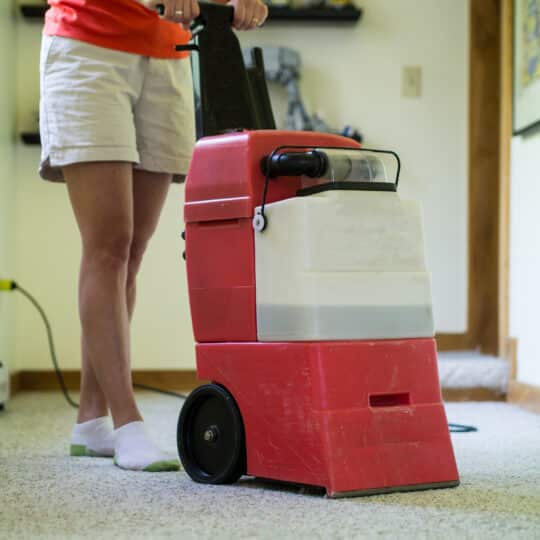 When your carpet needs a deep clean, it can be tempting to stop by the store and grab one of the "professional-grade" carpet cleaners available for rent and try to DIY the task. While it might sound like a convenient option for some, there are numerous things you need to consider first. Read on to learn why you should hesitate before renting a carpet cleaner.
What You Need to Know About Renting a Carpet Cleaner
Limited effectiveness: Rental carpet cleaners are typically designed for general use and may not have the same power and suction capabilities as true professional-grade equipment, resulting in less effective stain and dirt removal.
Inadequate maintenance: It's hard to know how well a rental machine has been maintained or the last time it was cleaned. You risk getting a device not in optimal condition or properly sanitized, potentially transferring dirt, allergens, or unpleasant odors to your carpets.
Time-consuming process: Carpet cleaning can be time-consuming, especially if you have a large area to cover. Renting a machine requires picking it up, familiarizing yourself with its operation, and returning it within the rental period.
Hidden costs: While the rental fee for carpet cleaners may appear affordable initially, there can be additional costs to consider. You'll need to purchase or rent cleaning solutions designed for the machine. And, if you encounter any issues during use, you may be responsible for repair or replacement costs—in addition to the cost of fixing your carpeting.
Lack of expertise: Operating a carpet cleaner effectively requires some knowledge and experience. Without proper guidance and training, you may not achieve the desired results or even damage your carpets.
Don't Take Any Risks and Call JDog Carpet Cleaning & Floor Care.
Your carpet is an investment, and you must take care of it properly if you want to extend its lifespan. Skip the stress, and call the Veterans and Military family members at JDog Carpet Cleaning & Floor Care. We know just how to clean your carpeting to ensure you can enjoy it for years to come. Call us today at 844-GET-JDOG for a free quote.