How to Protect Your Carpet from Mud Stains
A Rainy Day Survival Guide
---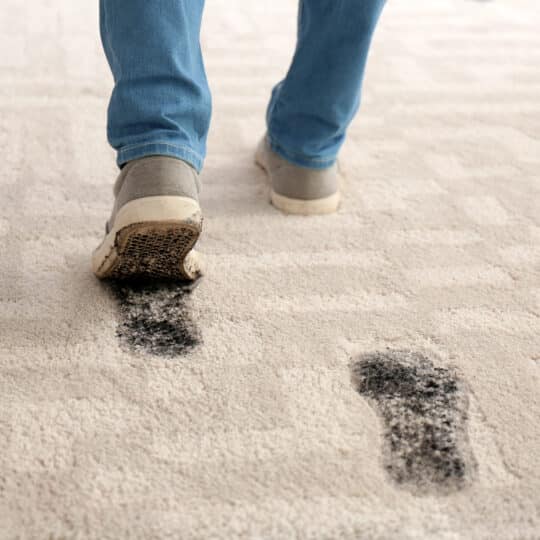 Rainy days can be delightful, but they often bring muddy footprints and stains that can wreak havoc on your carpets and cause cleanup headaches. With some proactive measures, you can protect your carpet from mud stains. Read on to learn what steps to take.
How to Protect Your Carpet from Mud Stains
Create a Mud-Free Entryway: Designate an area near your entrance as a "mud-free zone" by placing a sturdy doormat outside your door. This will encourage everyone to wipe their feet thoroughly before entering your home. Consider using a second doormat inside to capture any residual moisture and dirt that may have been missed.
Shoe-Free Policy: Encourage your family members and guests to remove their shoes at the entrance to prevent mud from being tracked inside. Provide a shoe rack or a basket for convenient storage.
Keep Towels Handy: Keep a stack of old towels or absorbent cloths near the entrance. These can be used to wipe off excess mud from shoes and paws before entering your home.
Use Protective Runners or Rugs: Place durable runners or rugs in high-traffic areas and hallways to create a barrier between muddy shoes and your carpets. Choose ones that can easily be cleaned or replaced if they get dirty.
Take Prompt Action for Stains: Act quickly if mud is tracked onto your carpets, referring to the manufacturer's cleaning directions.
Trouble with Mud? Call JDog Carpet Cleaning & Floor Care.
If tough stains persist or you're dealing with a larger muddy mess, skip the stress, and call the Veterans and Military family members at JDog Carpet Cleaning & Floor Care. We know just how to clean your carpeting to ensure you can enjoy it for years to come, and you can be confident we won't stop cleaning until the stains are gone. Call us today at 844-GET-JDOG for a free quote.