Tips to Spring Clean Your Mattress
4 Easy Steps
---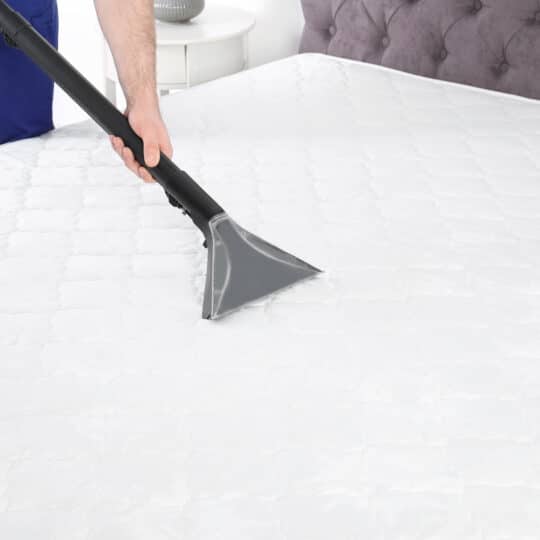 When you start spring cleaning, you might add tasks like washing the windows, cleaning the baseboards, and putting away winter clothes. Don't forget one of the most used places in your home: your mattress! Mattresses harbor dead skin, sweat, dust mites, dirt, and even tiny insects. Dust mites alone can cause sick-like symptoms including irritated eyes, runny or itchy nose, sore throat, breathing problems, skin ran, and asthma problems. Read on to learn tips to spring clean your mattress.
Tips to Spring Clean Your Mattress
You don't need much to clean your mattress, and you probably already have the two essentials at home:
First: Take off all the bedding. We recommend tossing it in the washing machine while you work to double up your spring cleaning efforts.
Second: Vacuum your entire mattress including the top, sides, and under the bed. If you have help, lift the mattress and vacuum in between the mattress and boxspring.
Third: Sprinkle baking soda evenly on top of your mattress. Let the baking soda sit for approximately an hour.
Fourth: Thoroughly vacuum the baking soda and re-make your bed.
Now is also a great time to rotate your mattress, which should be on your to-do list approximately every three months. This helps evenly distribute the foam inside so you don't end up with lumps.
JDog Carpet Cleaning & Floor Care Cleans Mattresses, Too.
Did you know it's recommended you clean your mattress every six months? If your spring cleaning to-do list seems to be getting longer and longer, call the Veterans and Military family members at JDog Carpet Cleaning & Floor Care for help. We'll arrive on time and in uniform to clean the mattresses in your home, freshen stinky carpets, or soft power wash your patio. Plus, we won't leave until your projects are cleaned to our high standards. Call us today at 844-GET-JDOG to schedule a service.