Superbowl Snack Stains
How to Get Rid of These Tricky Messes
---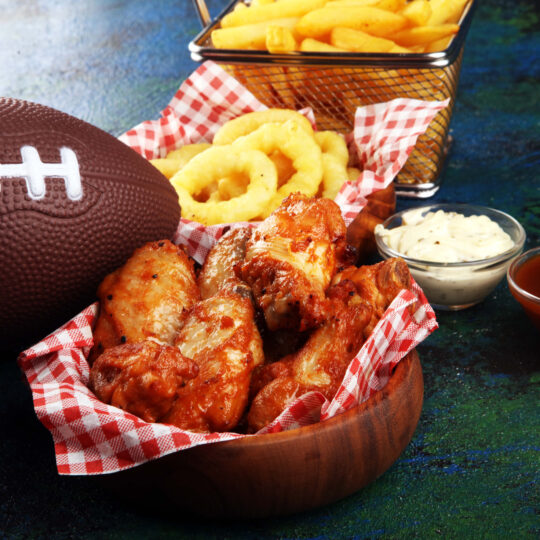 Are you ready for some Superbowl football…snack stains!? You are with this guide for taking care of messes caused by our football favorites.
Superbowl Snack Stains
Dips: Buffalo chicken dip, anyone? Before tackling the stain with your cleaning solution, get up as much as the sauce as possible. Gently scoop it up, careful not to rub it deeper into the fabric. Then make a mixture of dish soap with water and blot the stain. Using a white cloth or paper towel, dab at the stain gently. Repeat the process until the dip is gone.
Beer: Use a white cloth to blot up as much of the stain as you can. Be sure to work toward the center of the stain instead of spreading it out to untouched fiber. Pour warm water with dish soap over the stain to dilute it. Take a clean cloth and blot up as much as possible again. Use a clean, damp towel to lift up any soapy residue. Repeat as necessary.
Sauces. Are you serving buffalo wings or meatball subs for the big game? Those brightly colored sauces can cause quite the stains! Like with the dip, make a mixture of dish soap with water. Gently blot the stain with a white cloth or paper towel, and repeat the process until the stain is gone.
Tough Stains? Call JDog Carpet Cleaning & Floor Care.
If your super bowl snack stains aren't responding to your DIY cleaning methods, call the Veterans and Military family members at JDog Carpet Cleaning & Floor Care. We know just how to take care of those tricky stains, smelly carpets, lackluster hardwood floors, and more. When you call us, you can expect transparent pricing and on-time services. Plus, we won't stop cleaning until it meets our high standards. We approach every job with the same values we learned during our time serving our country: Respect, Integrity, and Trust. Call us today at 844-GET-JDOG to schedule a service.