How to Prevent Christmas Tree Sap from Damaging Your Floors
And How to Get It Off
---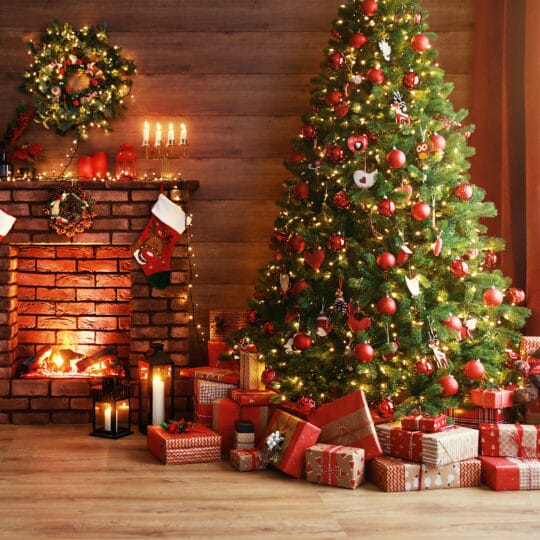 It never feels quite like Christmas until you put up and decorate the tree. While the lights, decorations, ornaments, and pine aroma are synonymous with the season, there are some things we could do without, like pine needles everywhere and tree sap. Today, we're taking a look at how you can prevent Christmas tree sap from damaging your floors and what to do if you find sap on the floor.
How to Prevent Christmas Tree Sap from Damaging Your Floors
Use a stand. The most effective way to prevent sap from damaging your floors is to keep your tree completely off the ground. A tree stand is a great way to achieve this. (Plus, it provides a reservoir for water, which will help minimize pine needles on the ground!)
Decorate with a tree skirt. Give your flooring an extra layer of protection with a tree skirt that wraps around the base of your stand.
Consider an artificial tree. If you can't stand the thought of having tree sap on your flooring, an artificial tree might be the way to go. Plus, this will also prevent the hassle of pine needles covering your floor and potential water damage from overwatering the tree.
Methods for Getting Sap off the Floor
Ice cube. You can harden runny sap using an ice cube to freeze the area. Then, simply pick it off in pieces. This takes some time—and maybe a few ice cubes.
Rubbing alcohol or hand sanitizer. This helps dry the sap so it eventually breaks off into pieces. Undiluted alcohol can harm some types of flooring, like hardwood, so test a hidden spot first. When testing on a hidden area of the carpet, look for colorfastness. If the color comes off on the cotton pad, you shouldn't use the alcohol to remove the sap or stains.
Liquid dish detergent. This is an effective method for removing sap stains from carpeting. Simply get a wet terrycloth with dish soap and dab.
Lack-Luster Flooring? Call JDog Carpet Cleaning & Floor Care.
Whether sap is the problem or your floors are showing their years, you need to work with a company that knows the ins and outs of all types of flooring. You can feel confident the Veterans and Military family members have the experience necessary to properly care for every surface in your home. Call us today at 844-GET-JDOG to schedule a service today.