Why Cleaning Your Mattress Is Important
And How to Do It Yourself
---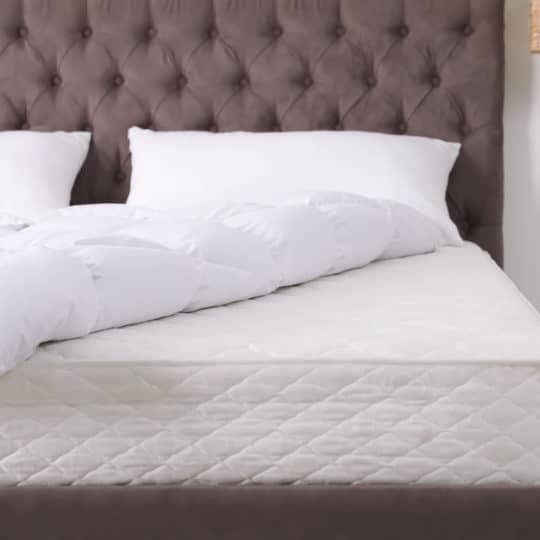 You clean your sheets and pillows often, and that makes your bed feel nice and fresh. Did you know you need to take it a step further? Every six months, you should be cleaning your mattress. Learn why cleaning your mattress is important and how you can take on the task yourself.
Why Cleaning Your Mattress Is Important
Mattresses collect dead skin, sweat, dust mites, and dirt. They can even harbor tiny insects. Do you want you (or your kids) to spend eight hours a night near those things? Dust mites alone can cause sick-like symptoms, like:
Irritated eyes
Runny or itchy nose
Sore throat
Breathing problems
Skin rash
Asthma problems
So before you blame your sore throat on a cold or allergies, you might want to consider when you last cleaned your mattress.
How to Clean Your Mattress Yourself
You likely already have everything you need at home to clean your mattress:
Baking soda
Vacuum
Optional: Essential oils
Step One: Take off all the bedding. Toss it into the washing machine while you work; it will serve as a great timer!
Step Two: Vacuum your entire mattress. Be sure to get the top, sides, and underneath the bed. If you have help, lift the mattress and vacuum in between the mattress and boxspring.
Step Three: Sprinkle baking soda on top of your mattress. If you have an essential oil you want to use to make your bed smell great, premix it with the baking soda and use a strainer to shake it over the mattress. Leave the baking soda on the mattress until your bedding is ready again.
Step Four: Vacuum the baking soda and re-make your bed.
Call JDog Carpet Cleaning & Floor Care to Clean Your Mattress
You have enough on your plate. Call JDog Carpet Cleaning & Floor Care to clean all the mattresses in your home. You can expect transparent pricing and on-time, respectful service. Give us a call today at 844-GET-JDOG to schedule a service.