Five Tips for Cleaning Outdoor Upholstery
To Help You Get Started
---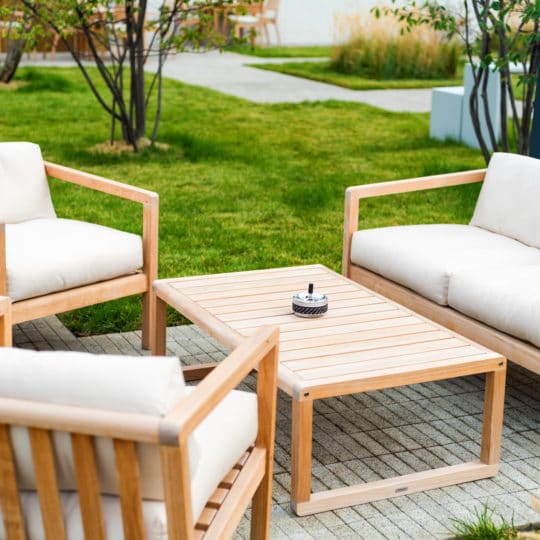 Spring is just a few weeks away. Is your patio ready for spending time in the fresh air and hosting? In addition to power washing your deck, you should take a look at your outdoor furniture and cushions. Here are some tips for cleaning your outdoor upholstery.
Tips for Cleaning Outdoor Upholstery
Check the Forecast.
You want to choose a sunny day when rain isn't in the forecast for the next few days. You'll want to give your cushions plenty of time to dry before covering them to protect them from adverse weather.
Read the Label.
As always, see if there are specific instructions for cleaning certain items. You even be surprised to learn some of your outdoor fabrics can be machine-washed!
Do a Test Spot.
Before you tackle the whole cushion, do a hidden test spot to make sure your cleaning method won't discolor the fabric. We recommend testing the bottom of the cushion in a discrete corner.
Brush off Excess Dirt First.
Before you use your cleaning product, brush off the excess dirt and grime. Otherwise, you'll end up rubbing the dirt right into the fabric and creating a bigger mess when you add water.
Ensure Airflow When Drying.
Don't just put the cushion right back on the chair! While it might be tempting to see your hard work in its finished state, you want to place your cushions in a spot where they can get the most airflow so all sides dry. Otherwise, the leftover water could settle to the bottom, creating the perfect environment for mold and mildew inside the cushion.
Call JDog for Help Cleaning Outdoor Upholstery.
We know just how to clean your outdoor upholstery, flooring, and more. When you call us, you can expect Respect, Integrity, and Trust, the same values we lived by during our time serving our country. You can feel confident knowing we won't stop working until everything is cleaned to our high standards. Ready to get your patio ready for spring? Call us today at 844-GET-JDOG.